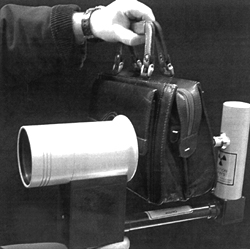 The ClearView handheld x-ray system represents the latest technology in providing high resolution real time x-ray imaging for numerous types of x-ray inspection applications. Its light weight and battery operation permits x-ray imaging in the laboratory and in the field at a very affordable cost.
Applications:
· Explosive Ordinance Disposal (EOD)
· Narcotics / Contraband Detection
· Non-Evasive Searches
· Forensic Investigation
· Correctional Facilities
· Non-Destructive Testing / Quality Control
· Food / Pharmaceutical Inspection
· Failure Analysis
· Emergency Medical Service
· Veterinary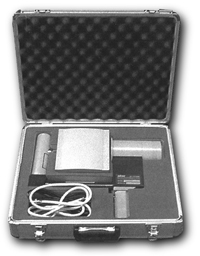 The Clearview x-ray system is an extremely lightweight real time x-ray inspection system. It has been designed to provide instant x-ray imaging with it's self contained x-ray source and the latest in image conversion technology in a hand held portable unit. The entire system operates off one rechargeable Ni-HS 12VDC battery or mains supply. All items are contained within a padded aluminum briefcase for easy transportation and protection.
Viewing Area:
50mm High Resolution Image Intensifier
Opening:
175mm
Image Luminance:
18cd/m2 - 450nm
Output Voltage:
60kVp - 0.1mA
Resolution:
>40Lp/cm
Output Dose:
>0.25 R/min @ 1 meter
Dose Leakage:
<0.05mr/hr @ 1ft
Power Supply:
80-240VAC - 50/60 Hz - 12VDC
Battery:
Ni-H@ Rechargeable
Weight:
3Kg
Shipping Dimensions:
540mm x 400mm x 300mm
Controls:
- Video Image Display
- 8mm Video Recording
- Frame Grabbing
Approval:
In conformance with USA BRH health and safety regulations.
System Components:
ClearView Imagers
Power Supply / Battery / Charger
Interconnection Cable
Mains Power Cable
Operating Manual
Robust Aluminum Briefcase

Tel: 973-235-0606 • Fax: 973-235-0132