Magnascanner CS 5000 Walkthrough Metal Detector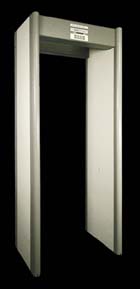 The Garrett Magnascanner CS 5000 is a high-quality microprocessor-based walkthrough metal detector that provides superior metal discrimination and detection. It features a DSP (Digital Signal Processor) that automatically suppresses or eliminates electrical interference associated with x-ray devices, video monitors and communications equipment, helping to reduce the likelihood of nuisance alarms and ultimately improving traffic throughput. The Magnascanner CS 5000 offers a diverse range of programs to meet your security needs. The detector is highly portable and can be operated by remote console or a battery pack as needed.
Garrett Magnascanner features:
• A dual access non-resettable code to safeguards calibration settings and an audible alarm to reveal any unauthorized access attempts.
• A built-in overhead electronics compartment to eliminate the inconveniences of a cable-connected console.
• Multi-phase frequencies and variable tone settings to facilitate multi-unit operation.
• Modular electronics and unit design for easy on-site assembly and maintenance

Tel: 973-235-0606 • Fax: 973-235-0132