Magnascanner MT 5500 Walkthrough Metal Detector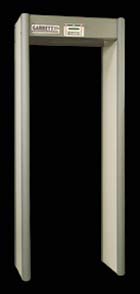 When maximum throughput is top priority, security professionals can depend on the Magnascanner MT 5500 walkthrough metal detector.
Coils on both sides of the archway improve traffic flow by helping to locate targets on the left, right or in the center of the body. Dual alarm lights enhance detection by indicating the side on which a target is located. A head-to-toe uniform detection field removes "hot spots" thereby reducing the likelihood of false alarms. Microprocessor-based circuitry enables the operator to calibrate the detector to meet the needs of various security applications.
Touch pad controls and a backlit LCD revealing all of the operating and control functions help ease operator workload.
Garrett Magnascanner features:
• A dual access non-resettable code to safeguards calibration settings and an audible alarm to reveal any unauthorized access attempts.
• A built-in overhead electronics compartment to eliminate the inconveniences of a cable-connected console.
• Multi-phase frequencies and variable tone settings to facilitate multi-unit operation.
• Modular electronics and unit design for easy on-site assembly and maintenance

Tel: 973-235-0606 • Fax: 973-235-0132