With exclusive Pinpoint Detection Technology.
Also features unique patron pacing lights.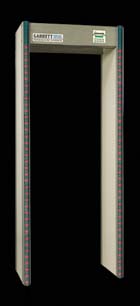 Identifying and locating concealed weapons is easier than ever thanks to Garrett's new Magnascanner PD 6500i walkthrough metal detector.
The PD 6500i's unique, ultra-enhanced multi-coil detection field pinpoints the exact location of any metal object within 33 distinct areas of the archway, whether on the left, right or in the center of the body, from head to toe. Bright, easy-to-interpret LED pinpoint lights on the archway's exit side, together with green and red patron pacing lights on the archway's entrance side help improve overall traffic throughput.
200 levels of sensitivity for each zone provide greater versatility and improve discrimination.
Garrett Magnascanner features:
• A dual access non-resettable code to safeguards calibration settings and an audible alarm to reveal any unauthorized access attempts.
• A built-in overhead electronics compartment to eliminate the inconveniences of a cable-connected console.
• Multi-phase frequencies and variable tone settings to facilitate multi-unit operation.
• Modular electronics and unit design for easy on-site assembly and maintenance

Tel: 973-235-0606 • Fax: 973-235-0132