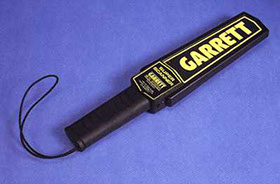 Garrett's Super Scanner, the metal detector that set the world's standard for hand-held body scanners, is now even better! Just press the ON switch, and its automatic circuitry will detect all concealed metal weapons including the smallest knives and guns.
The Super Scanner features automatic tuning and battery check. No adjustments are ever necessary. When a target is located, the unit provides both an audio signal and a visual alarm.
This favorite of security and law enforcement professionals everywhere has been improved with the addition of a Reduced Sensitivity mode for scanning near rebar floors, a new Grip for greater handling ease and an improved End Cover that lets you change batteries without tools. Accessories include an earphone for "silent" scanning,
Ni-MH rechargeable battery kit with recharger, and a sturdy holder for belt or patrol car mounting.
Garrett ... proven dependability for over 35 years.
Features:
• Detects medium-size pistol from distance of 9"; large pocket knife, up to 6'; razor blade, 3"; hatpin,1"
• Automatic retuning (no adjustments ever necessary)
• Sensitivity can be curtailed if ambient metal (ie., floor with rebar ) causes interference
• Large scan surfaces for quick and thorough scanning
• Automatic Battery check
• No tools required to change batteries
Operating Frequency:
95kHz
Dimensions:
Weight 18 ounces (0.5kg)
Width 3.25" (8.3cm)
Thickness 1.625" (4.13cm)
Length 16.5" (42cm)
Tuning:
Automatic
Indicators:
Speaker
LED red light
Jack for optional earphone and optional charger
Controls:
3-way switch (ON, OFF, Momentary Operation)
Interference Elimination switch
Battery:
Single 9 volt (provides up to 80 hours normal operation)
Ni-MH Rechargeable (optional accessory)
Warranty:
Limited, 24 months parts and labor
Ordering Information:
Super Scanner with 9v Battery Model 1165170

Tel: 973-235-0606 • Fax: 973-235-0132